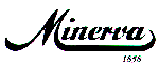 Some Background
Minerva Watches began their history in 1858 in Villeret, Switzerland when it was founded by Charles-Yvan Robert and Hyppolite Robert. In 1878, Charles and Georges Robert followed in the footsteps of the founding generation. The managing triumvirate was completed in 1885 when Yvan Robert joined the partnership. The characteristic V-shaped trademark with an arrow splitting the letters R, F and V, stood for Robert Freres Villeret. The company name changed several times, becoming Fabrique Robert Freres in 1898, then Fabrique des Faverges in 1902, Fabrique Minerva in 1923 and eventually in 1929 it became Minerva SA.
In 1902 Minerva became a "manufacture" of watches designing and manufacturing the most critical watch parts, such as the movement, in their own engineering workshops. The earliest Minerva wristwatch was manufactured in 1909, but Minerva's greatest success came in 1923 with the introduction the No. 20, a caliber which was a chronograph with a column-wheel mechanism, a Breguet balance-spring and 17 jewels. With the launch of this watch, the company earned its reputation as a manufacturer of complicated movements of exceptional quality. In 1936, Minerva was responsible for time-keeping in the 1936 Winter Olympics. In the years after WWII, Minerva developed a full range of mechanical movements, complemented by automatic movements made by Ebauches.
Minerva, up until 2000 when it was purchased by an Italian company, was led by the Frey family employing as few as 6 full-time employees and producing about 1,000 wristwatches a year (and considerably more stopwatches). Minerva was one of very few companies to produce their own movements and one of even fewer who had done so continuously for close to a hundred years. Andre Frey, physicist and clock technician was an engineer before he came to Minerva in 1940, later taking over the company in 1960. Andre Frey designed several beautiful and highly technical movements including the movement used in the watch model Pythagore which is movement no. 48 and the Venus caliber 175 used in the Heritage (see below).
---
MINERVA HERITAGE
(photos above courtesy of Armin)
The Minerva Heritage (Ref A 175-A8B) was produced in a limited series of 300. It is believed that only 97 were actually manufactured.
The Heritage is a throw back to another era. with a hand wind movement (Venus caliber 175) produced during the Frey era. The original list price of this limited, special edition watch was approximately $4,100 when it was introduced in the late 1990's.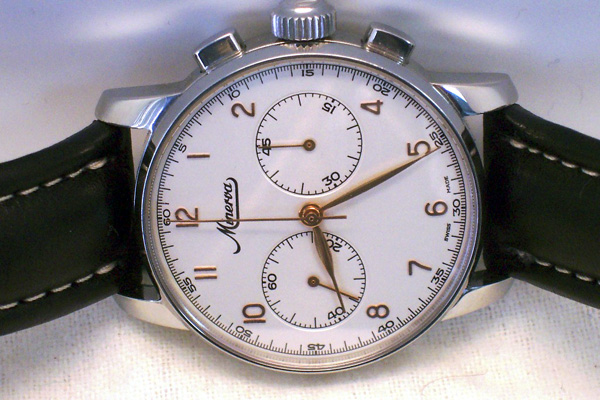 Photo above courtesy of Mark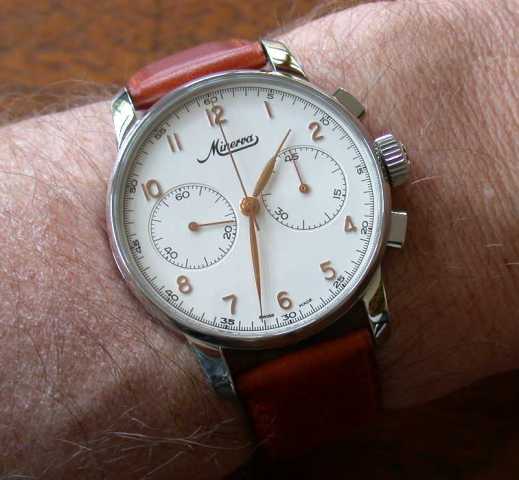 Photo above courtesy of Dick
THE CASE
The highly polished 316L stainless steel case is 39mm in diameter with sapphire crystal in front and a sapphire display back.
The crystal in front is slightly domed
The case back is fastened with five screws
The dial is silver/cream colored with applied gold numerals and hands
Two sub-dials with sub-seconds at nine o'clock and 45 minute register for the chronograph at three o'clock
The 45 minute register is very rare in chronographs of this type
The outermost portion of the dial contains a seconds scale for the chronograph function and a minute scale
Every 5th second/minute is numbered
Beneath the 6 o'clock, "SWISS MADE" is written in tiny letters
Dimensions (approximate):

Dial - 39mm without crown
Dial with Crown - 42mm
Height - 11mm
Lug to Lug Width - 48mm
Lug Width - 20mm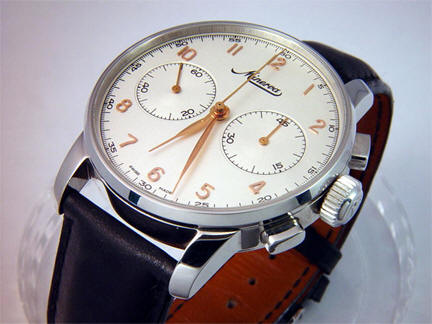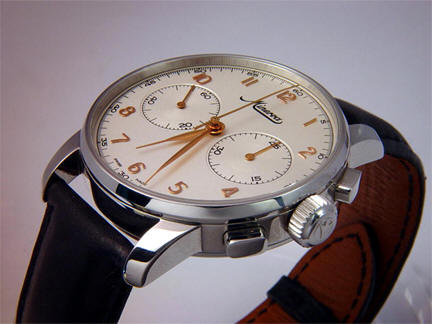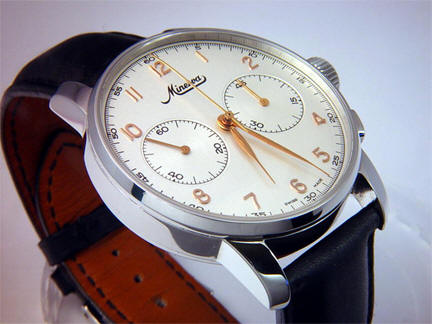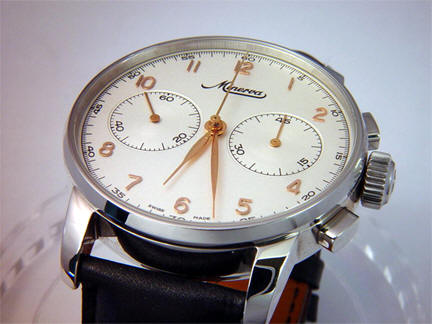 (photos above courtesy of Armin)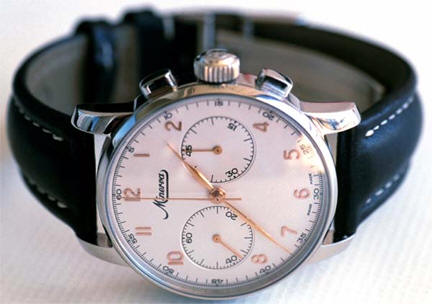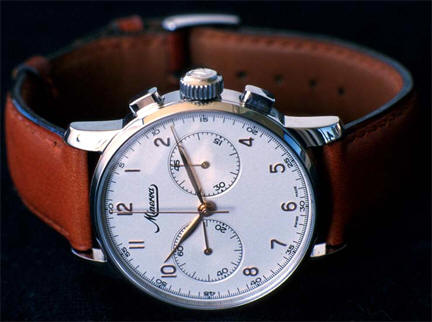 (photos above courtesy of Ole)
THE MOVEMENT
The Heritage houses a vintage Venus caliber 175 hand wind movement designed by Andre Frey and produced at the former Fabrique d'Ebauches Vénus S.A. in Moutier Switzerland between 1940 and 1964.
The beat rate is 18000 BpH which gives a 1/5th of a second resolution on the chronograph function
17 jewels, rosé gold plated movement
31mm (14 ligne) in diameter and 5.5 mm thick
Features a column-wheel
This movement is common in chronographs of the 40's and 50's
The Breitling Chronomat and Rodania single-button chronograph are examples of vintage watches that use the Venus 175 movement.
There are several watches on the market today with Venus 175 movements. Most known are the Jacques Etoile Venus models. An example can be found here: Venus Metropolis
(photos above courtesy of Armin)

Photo above courtesy of Dick
| | |
| --- | --- |
| Certificate of Origin | Diagram of Venus 175 Movement |
| | |
THE DIAL
| | | |
| --- | --- | --- |
| | | |
| | Photos above courtesy of Mark | |
SUMMARY OF KNOWN MINERVA HERITAGE OWNERS

Here is a summary of the Minerva Heritage owners known to me as of April 18, 2004:

#5 Goetz-D. Pilger (Germany)
#7 Chris N (USA)
#16 Tom Chang (USA)
#17 Unknown (Japan)
#19 Yoshichika Yasui (Japan)
#26 Patrick Vaughn (USA)
#32 Kevin Deal (USA)
#35 Pete Wergin (USA)
#37 Unknown (Japan)
#38 Ludwig (USA)
#39 James W (USA)
#40 Dick Liebson (USA)
#41 Unknown (USA)
#43 Unknown (Norway)
#47 Oliver Moeller (Germany)
#48 Yasuaki Tsuzuki (Japan)
#51 Mitsuru Nakajima (Japan)
#54 Ed Simpson (USA)
#56 Howard Zetley (USA)
#57 Unknown (Japan)
#58 David Crane (USA)
#72 Michael Pawils (Germany)
#74 JohnB (USA)
#76 Kohei Saito (USA)
#78 Christopher Kim (USA)
#81
#82 Larry Seiden (USA)

#83 Scott Barber (USA)

Please feel free to email me with any additions, modifications, corrections, additional content or comments you may have. Thanks!

| | |
| --- | --- |
| | Persons Have Visited This Site |